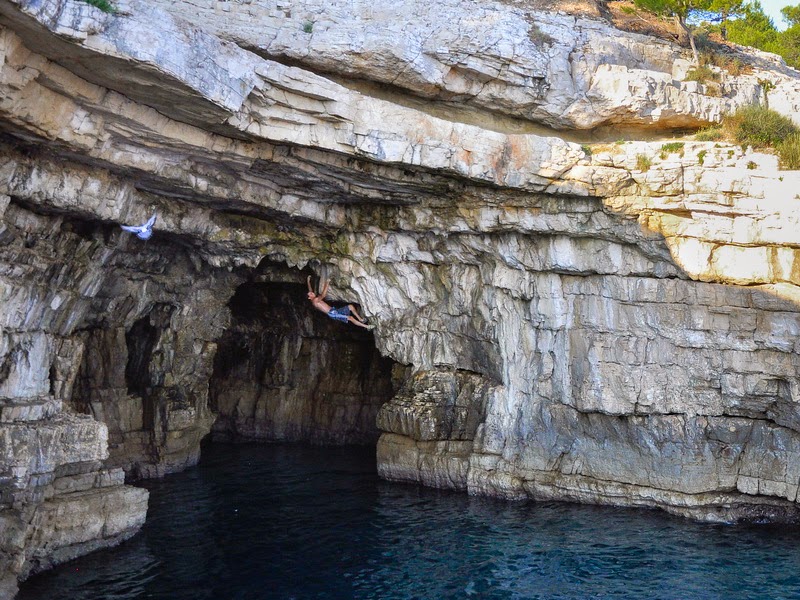 Latest highlights of climbing in Istria
Klemen Bečan deep water soloing in Stoja cave, close to Pula @ photo by Anja Bečan
The summer is fully on! Many climbers from the area went on holidays in search of new nice spots and cooler temps around Europe. Some went on the seaside, to relax on the beach and in between also to jump in our beloved crags and smash something hard.
Matjaž Zorko managed the 4th ascent of Starec in morje (8c) in the scenic sector Krugi in Limski kanal.
Then young Anej Batagelj onsighted his first 8a, crimpy Happy mix in the secret crag of Skedenj close to Sežana. In the same climbing area Guido de Sabbata ticked the powerful Onda anomala (8b).
Croatian Luka Meštrović climbed his first 8b, the nice Lap dance in the summer sector named Befana in Buzetski kanjon.
In Baratro, junior in Slovenia climbing team, Klemen Novak flashed the latest and possibly the hardest 8a over there, maybe even 8a+, named Zooropa and fresh papa Andrea Padoan did his first 8 in his new lifetime period, the power endurance testpiece Corrida (8a+).
Well done guys, keep on rockin'!
Don't forget that in these hot days you can also always have super fun on the beach while deep water soloing, here in Istria.
A new article with »new« DWS spots coming soon! 😀