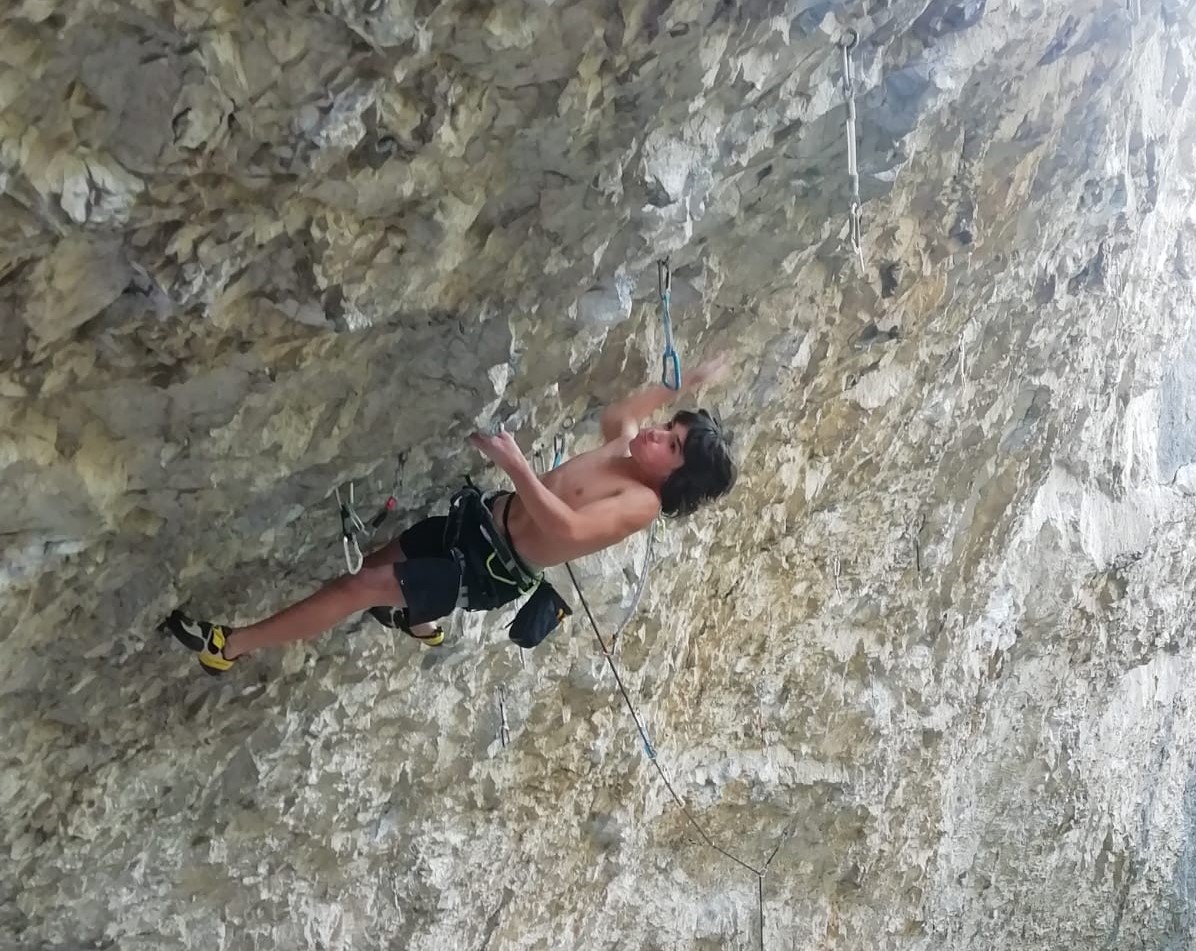 Martin Krpan (9a) by 13 years old Andrea Chelleris

13 years old Andrea Chelleris has done his first 9a, Martin Krpan in Mišja peč. Interesting, at the same age, also Adam Ondra succeeded in his first 9a by clipping the chains of Martin Krpan (9a).

Martin Krpan (9a) was first ascended by Slovenian Jure Golob back in 2001. The futuristic line was bolted in the nineties of course by Tadej Slabe. It is about 60 moves long power endurance route without any proper rests. It starts in the first part of Strelovod (8c) and finishes almost through the whole of Konec mira (8c/c+).

Martin Krpan is a fictional character from the short story written by Fran Levstik back in 1858. A smuggler by profession, he makes a living by illegally transporting English salt. With the help of his loyal, diminutive mare, he carries the salt from the Adriatic Sea coast to the Slovene Lands and elsewhere in Inner Austria. On one of his travels, Martin Krpan meets the imperial carriage on a snowbound road, and makes way for it by picking up his laden horse and moving it aside.

The strongest Slovenian for sure! 😀 Now, the route waits for the first female ascent. Go Mina!

And some more news from the climbing scene in Istria:

In short and steep Krkuž, near Roč in Croatia, Gianfranco Dušić did a first ascent of a direct start in a roof of Serigunčič (8a). The new route now has a name Plafonjera and a proposed grade of 7c+.

On the female side, in Mišja peč, Serbian Staša Gejo ticked crimpy and polished Oktoberfest (8a) and bouldery Truplojedka (8a+).

In Buzetski kanjon, in sunny sector Pengari, Ivana Staraj redpointed her first 8a+, La petarda.

Congrats to all!

The weather forecast for tomorrow looks great, but then some rain will come. Hopefully not too much, so the tufas will remain dry. See you at the crags in Istria!