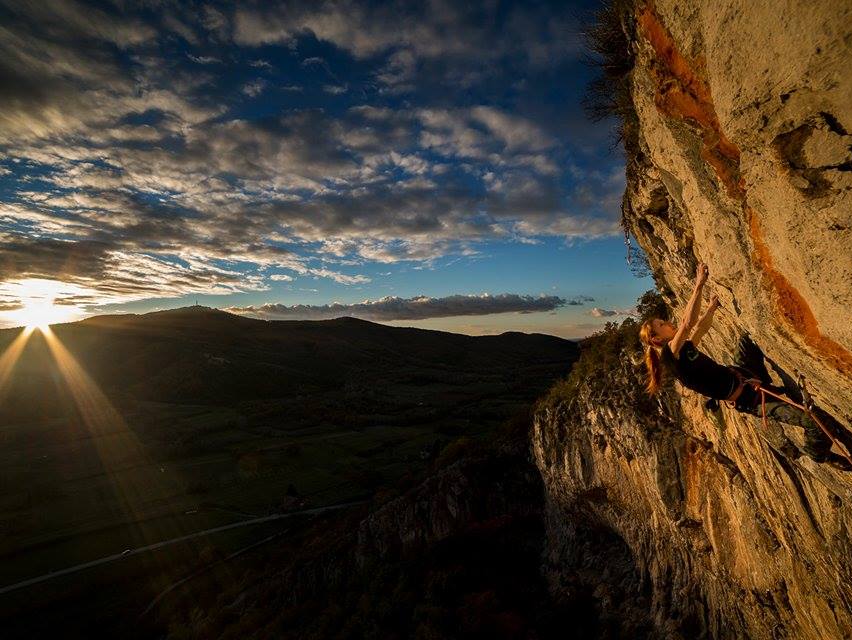 Mina Markovič sent Histerija (8c+) on 3rd go
Mina Markovič in Histerija @ Photo by Luka Fonda
On Sunday 22nd November, Mina Markovič, best Slovenian female climber and current overall lead world cup winner, on her third go sent Histerija (8c+) in the central part of Mišja peč. Histerija was first climbed by Matej Sova back in 2004, the first and until now only female repeat was done by Natalija Gros in 2008. It is around 35 meters long route with the first half quite "easy" climbing on tufas till the good rest, after it comes the first boulder on small pinches and crimps followed by poor kneebar rest on sloppers. After that it comes the hardest part of the route on very small sideholds, small edges and bad footholds. From here on it is a speed and power endurance race on perfect crimps far apart without any rest or shake to the anchor. For sure, one of the best challenges of Mišja peč.
On Thursday Mina climbed her first 8c on Slovenian soil nowadays very popular Corrida in Mišja peč. Besides that on the same day she did also Sreča vrtnice (8b) on her first try this year after some tries couple of years ago. What a performance, bravo Mina!
Remaining in ladies or girls climbing in Mišja peč, only 12 years old Ukranian girl Nika Potapova clipped the chains of her first 8b+, Kaj ti je deklica.
On men side, Piotr Schab from Poland redpointed Natural link (8c) and Missing drink (8b+). Jakub Kovacik from Slovakia Kaj ti je deklica (8b+) and Marjetica (8b) and Ukranian Mischa Tkachuk Strelovod (8c). Patxi Usobiaga was here as well and while being injured did Marionetta (8b).
Sunny, windy & chilly weather forecast for the next days! Perfect winter conditions are here!!! 😀