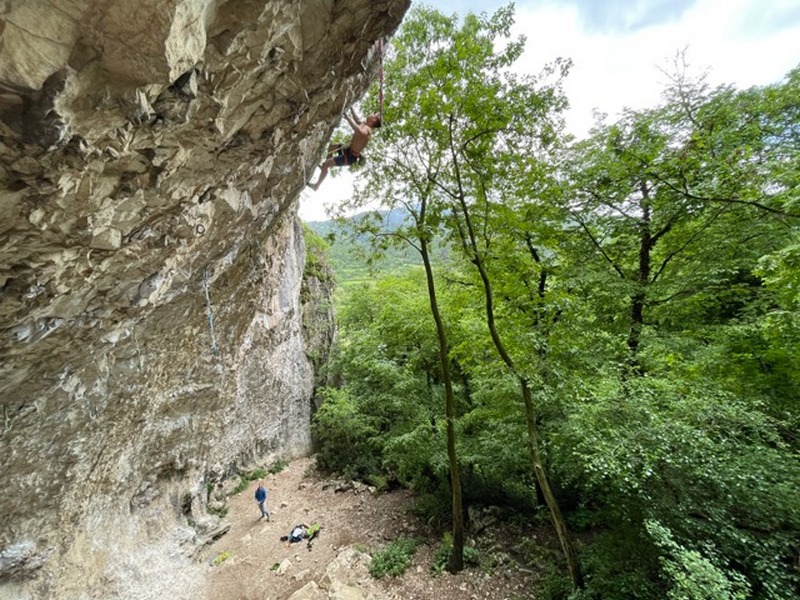 Samo Golob (15) joins the 8c club
Samo Golob in Strelovod (8c) in Mišja peč @ photo by Štefan Wraber
Only 15 years old Samo Golob climbed his first 8c, Strelovod in Mišja peč. He needed just 5 or 6 tries after he put the rope in the chain of Marjetica (8b) last autumn. Maybe, because of the beta he shared with his father, Jure Golob, who was the one who established the first 9a in Slovenia, Martin Krpan. WOW!!! Congrats to both!
Also, World Cup bouldering competitor, Zan Lovenjak Sudar visited Mišja peč and he did Missing drink (8b+) and crushed the bouldery Ninja želva (8b+) on his second go.
Maj Tomažin clipped the chains of his hardest route until now, Lahko noč Irena (8b).
Then, a bit more to the north, in scenic Lijak, Robert Pečenko did his second 8b, one of the most beautiful routes in the region called James Bond (8b).
Baratro in Italy was dry in the last days. Giulio Baxa smashed his first 8b, Masochiscmo. And Luca Bacer showed his powers once again while doing the first repeat of King Kong natural (8a), Violento dubbio (8b) and Il sultano nero (8c).
Way to go guys!!!