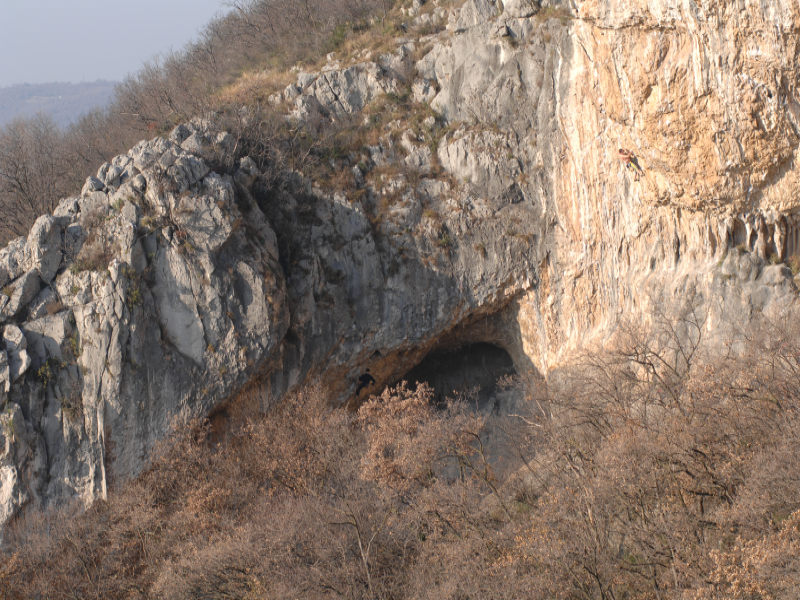 Sanjski par (8c+) by Mateusz Haladaj
Photo @ Tedi's cave in the left part of Mišja peč
The hardest route climbed last week was the first part of Sanjski par (8c+) in Mišja peč, redpointed by the Pole climber Mateusz Haladaj. Matusz is a 36 years old climber with two 9a+'s and many 9a's under his belt. He is currently in Osp and Mišja peč as a coach and photographer of Polish youth climbing team. Sanjski par was bolted in 1992 by Slovenian climbing legend Tadej Slabe, then in 1994 he freed the first totally horizontal part and graded it 8c. Years later one hold broke and it got upgraded to 8c+. Its extension is a 9a benchmark and was first ascended by Uroš Perko back in 2003. Here is the video of Stefan Bednar's full ascent of Sanjski par extension (9a).
Also in Mišja peč, Matteo Menardi made a fast ascent of 5-star line called Kaj ti je deklica (8b+), then Robert Buh smashed the totally artificial Marionetta (8b or 8b+, depends from your height) and flashed Iglu (8a). Missing link (8b+), the classic powerfest was this time done by young Jakob Kos.
We also got many questions if the big cave of Osp is still dry. Yes, it is! 🙂 British Louis Jones clipped the chains of another 8b over there, Helikopter v omaki.
In scenic Kompanj, Olin Kapal from Czech republic flashed soft and crimpy Raw powder war (8a).
Congrats to all!
As the weather forecast for the next days promises sun and perfect climbing conditions, stay tuned for more climbing news.