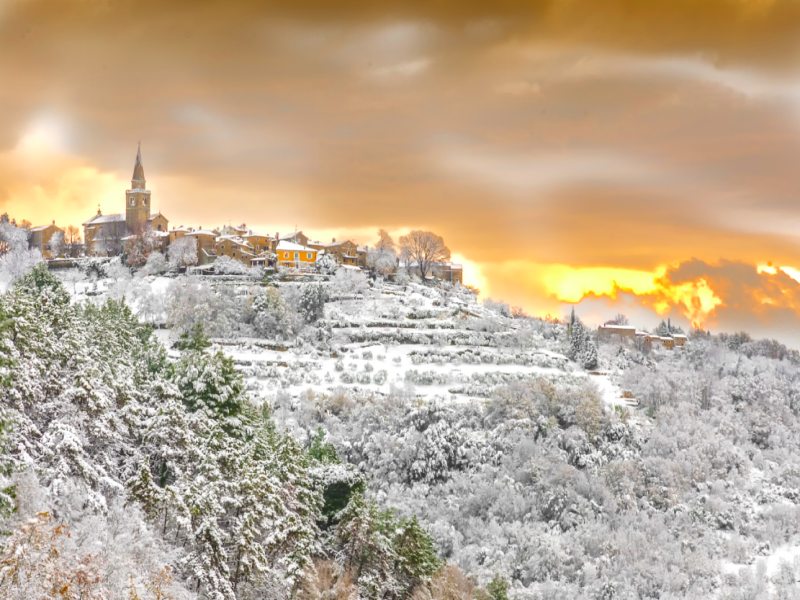 Winter is coming to Istria
Photo @ the scenic town of Motovun in winter
Winter is coming to Istria in the next days. Last days were rainy and not so nice. But in the next days the sun and NE wind called "burja" will arrive to Istria. "Burja" always brings sun and chilly weather. This winter climbing conditions are perfect to climb in the sunny and wind protected climbing areas like Mišja peč, Lijak, Napoleonica, Aurisina, Costiera, Kompanj, Pandora and so on.
And what was climbed in the last week?
Let us start this time in Croatia. Nikola Kramarič from Split, probably the strongest Croatian at the moment, had a successful weekend climbing in Istria. First he visited old school crag Dvigrad, where he briefly tried the legendary Maonolo's crimpy testpiece Malvazija (8c+) and flashed Otavarium (8a+). Then he visited as well short and steep Rock'n'Roč where he onsighted the soft Nairobi (8a) and flashed extremely overhanging Pelinkovac (8a).
In the winter climbing area Lijak, above Nova Gorica, local climber Jure Piršič clipped the chains of the amazing James Bond (8b).
All the other hard redpoints come from Mišja peč. As we mentioned in the last climbing news, Poland youth climbing team was climbing here. 15 years old Milena Ciechanowska crushed Corto (8a) and Iglu (8a), then also 15 years old Mikolaj Heretyk sent the long traverse with many kneebar rests in the left part of Mišja peč called Lazuret (8b). The hardest ticklist was done by 16 years old Michal Korban who did the hard and powerful Konec mira (8c), Missing link (8b+), Missing drink (8b+) and Marjetica (8b). Big congrats to Pole young guns!
The Slovenians, Jakob Šparovec redpointed Nočna kronika (8b) and Domenko Kolenko fired Marjetica (8b).
The weather forecast for the weekend is still so so, but Monday and Tuesday will be cold but sunny for sure. Winter is here!