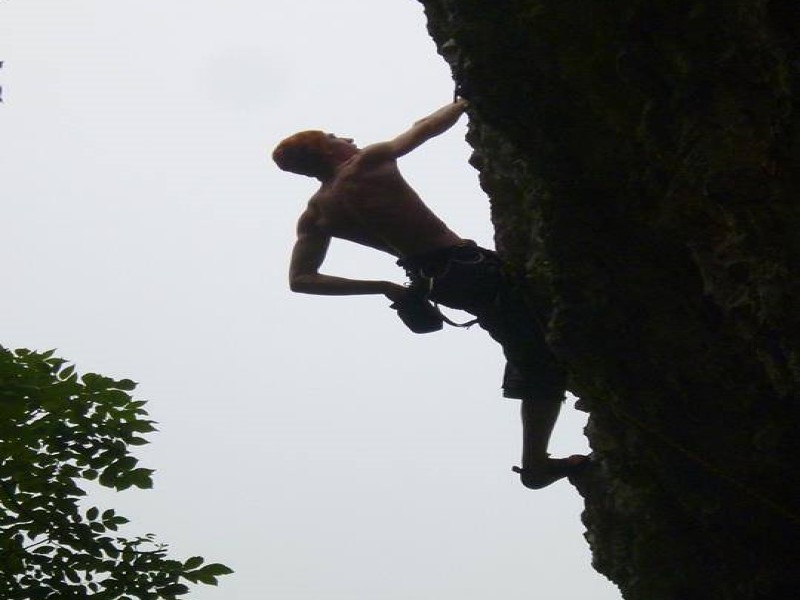 Štepan Volf and Sanjski par extension (9a) in Mišja peč
Even though the weather thru New Year's holidays wasn't great, many hard climbs were ticked in Istria. We have picked some of them for you. Check it out!

Štepan Volf from Czech republic did the first part of Sanjski par (8c+) in the left part of Mišja peč, then he needed another 10 tries to finish its extension with the grade of 9a. His comment about the route: "Super happy about this one, it was all wet. Somehow skipping the boulder after first part with one long move was a bit easier. 10 more tries after first part. No kneepad."

Hungarian teenager Valyi Gergo redpointed Missing drink (8b+) and Marjetica (8b) on his second go, both in Mišja peč. Besides that, he onsighted Corto (8a) and Oktoberfest (8a) and flashed Giljotina (8a). His colleague Tamas Farkas ticked the long and crimpy Chiquita (8b).

Some members of Austria climbing team visited Istria as well. Martina Harnish climbed Giljotina (8a) in Mišja peč and Črna gradnja (8a) in sector Babna in Osp. Mattea Potzi managed her hardest one day ascent with clipping the chains of powerful Marjetica (8b) in Mišja peč. She also smashed the classic power endurance testpiece Sonce v očeh (8a+) in terrible conditions. They were also climbing in Croatia, more precisely in Kompanj, when again in foggy and humid conditions Mattea fired crimpy Nussknacker (8b) and always dry Domače kobasice (8a).

Our Croatian friend, Siniša Škalec succeeded in Sreča vrtnice, the beautiful and long 8b in the central part of Mišja peč. Congrats to all!

The weather forecast for Istria until Sunday looks promising, then some rain will hit again.