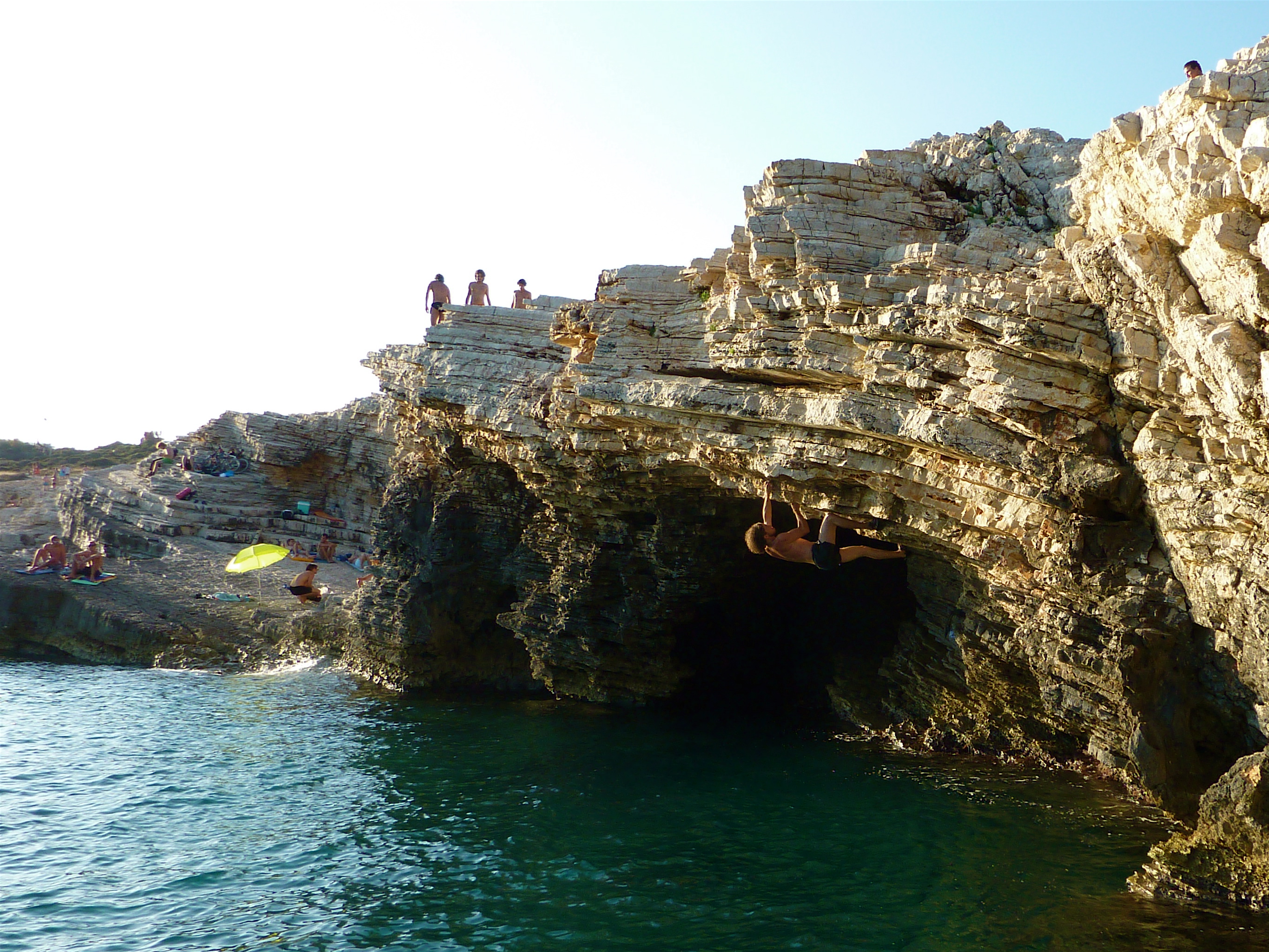 Summer climbing areas in Istria
The summer is here! That's the reason for this article. 🙂
In Istria you can easily combine summer holidays on the seaside with some climbing in between. Of course you have to avoid climbing in the sun, so we suggest you the following summer climbing areas in Istria:
Buzetski kanjon
For sure one of the best summer destinations you can choose in Istria. Sector Pengari is in the shade in the morning until around 12AM. It offers long and beautiful routes in slabs as well in overhangs with tufas. The grades vary from 6a to 8a+. Other even better summer sector in Buzetski kanjon is called Ljetni sector or Befana. Routes here are mainly steep, long, on good holds and big tufas, true endurance testpieces. It has around 30 routes from 6b to 8b+. The wall gets in the shade already around 11 AM and stays till the evening. Further down the canyon there is sector Slap, which is in the shade from the morning till the late afternoon. It offers steep resistant climbs mainly in the higher grades.
Portafortuna
Big climbing area on the end of the island Krk close to the scenery Baška. It offers 60+ long and beautiful routes from 4a to 7c on sharp limestone. The sun leaves the wall already around 10AM and there is always present some fresh wind breeze. Don't forget your sweater in the car! 😀
Vinkuran
Interesting climbing area just five minutes away from the center of Pula. It is located in an old Roman quarry with walls facing in all the directions, so you can always find some routes in the shade. For sure better option for climbing activity is in the morning when it is still a bit fresh. It has around 40 routes from 5a to 8a. Warning! There are some artificial holds, routes and walls as well.
Rovinj
On the end of the Zlatni Rt peninsula, just south from Rovinj inside the forest park, you can find one of the most popular climbing areas in Istria. It is close to the sea, family friendly, perfect for climbing schools and has a beautiful view of the whole old town of Rovinj and amazing Adriatic sea,… In the shade until around 3PM!
Pazin
In the heart of peninsula Istria lies city called Pazin. Just couple of kilometers away there is a climbing area called Zarečki krov. It is one of the best summer climbing areas in Istria, especially in the morning when it is fresh because of the lake and waterfall just near. It is characterized by short and steep routes above the lake. It has around 30 routes from 4a to 8b, 6 to 25 meters long. After climbing it is always nice to jump from the top of the wall close to the waterfall directly in the fresh lake.
Nugla
Is a bit higher than the other crags here, so it is a bit less hot. In summer you can climb in the afternoon and rain doesn't matter. The routes in the cave are steep and grades vary from 6b to 8a+. Nova Nugla is a bit more vertical and the routes are shorter and more bouldery.
Čepić
It's a small but pleasant crag situated in the nice gorge underneath the old typical Istrian village of Čepići. There are more than 30 relatively short but very nice bolted routes for beginners in a beautiful setting in the heart of Istria. It is also children friendly and nice to make a picnic or just a splendid day out in the nature. Perfect spot as the temperature in the gorge is always about 10°C lower than outside.
Brseć
Above the seaside cliffs of the eastern shores of Istria lies a picturesque and cute little village Brseč. Underneath are tall, sometimes overhanging walls, perfect for climbing. Sector Križ is in the shade from the early afternoon on and it offers long routes on big holds, just above the sea.
Črni kal
There is always some fresh breeze in the sector behind the tower in Črni kal. There you can enjoy all day long some 300 vertical routes on great limestone in grade range from 3 to 8a. The routes are old school: very technical on edges, cracks, sloppers,…
Secret crag Baratro
Near Zgonico above Trieste there is a perfect summer cave called Baratro. It has many hard overhanging routes from about 6b to 8c+. Because it is on a private property we are not allowed to give you further information, just ask friendly locals and they will gladly take you up there. For sure, it is very worth a visit!
What else? Nothing, you will still feel hot, but just enjoy your summer holidays in Istria as much as you can! If you still suffer from high temperatures, try Deep Water Solo climbing and fresh yourself in Adriatic sea.