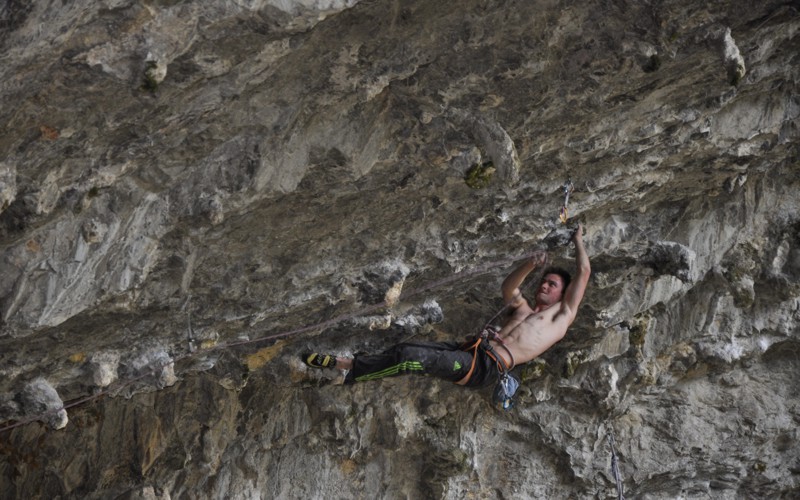 Summer warriors
@Gašper Pintar climbing Helihopter v omaki in the cave of Osp
What was happening last week in our beautiful Istria?
There was burja AKA strong and cold wind from north-east which always brings us nice weather… so it brought us perfect cold and dry conditions in our favourite areas! And what happened? A lot 😀
Omar Genuin, strong climber from the Dolomites, redpointed his longstanding project Sicario sanguinario, resistant 8c in the cave of Baratro. In the same crag also Rok Blagus, former successful alpinist from Slovenia, redpointed La peste nera, 8b+, a beautiful artificial endurance testpiece.
Of course, if there were good conditions in Baratro, there were even better in Skedenj, so Stefan Bednar after failed flash attempt succeeded in Sežana 31249 (8b) on his second attempt. Boštjan Weingerl, one of Slovenians strongest boulderers ever is "cleaning" all the routes in Skedenj. Last week he redpointed Vision and Fight the Faida (both 8b). Fight the Faida was as well done on second go by Jakob Bizjak.
Rainy and fresh mid june temperatures attracted many climbers back to Osp. 12 years old Anej Batagelj redpointed his first 8a+, perfect route for "children" with small fingers with the name Sonce v očeh in Mišja peč.
In the big cave of Osp Croatian climbing legend Igor Čorko and young Slovenian Jakob Šprah redpointed 55 meters long endurance testpiece Bitka s stalaktiti (8b).
Also Pinti (Gašper Pintar) was climbing in the cave. On his 2nd attempt he redpointed Helihopter v omaki (8b).
Summer is on it's way… What can we expect more? 😀