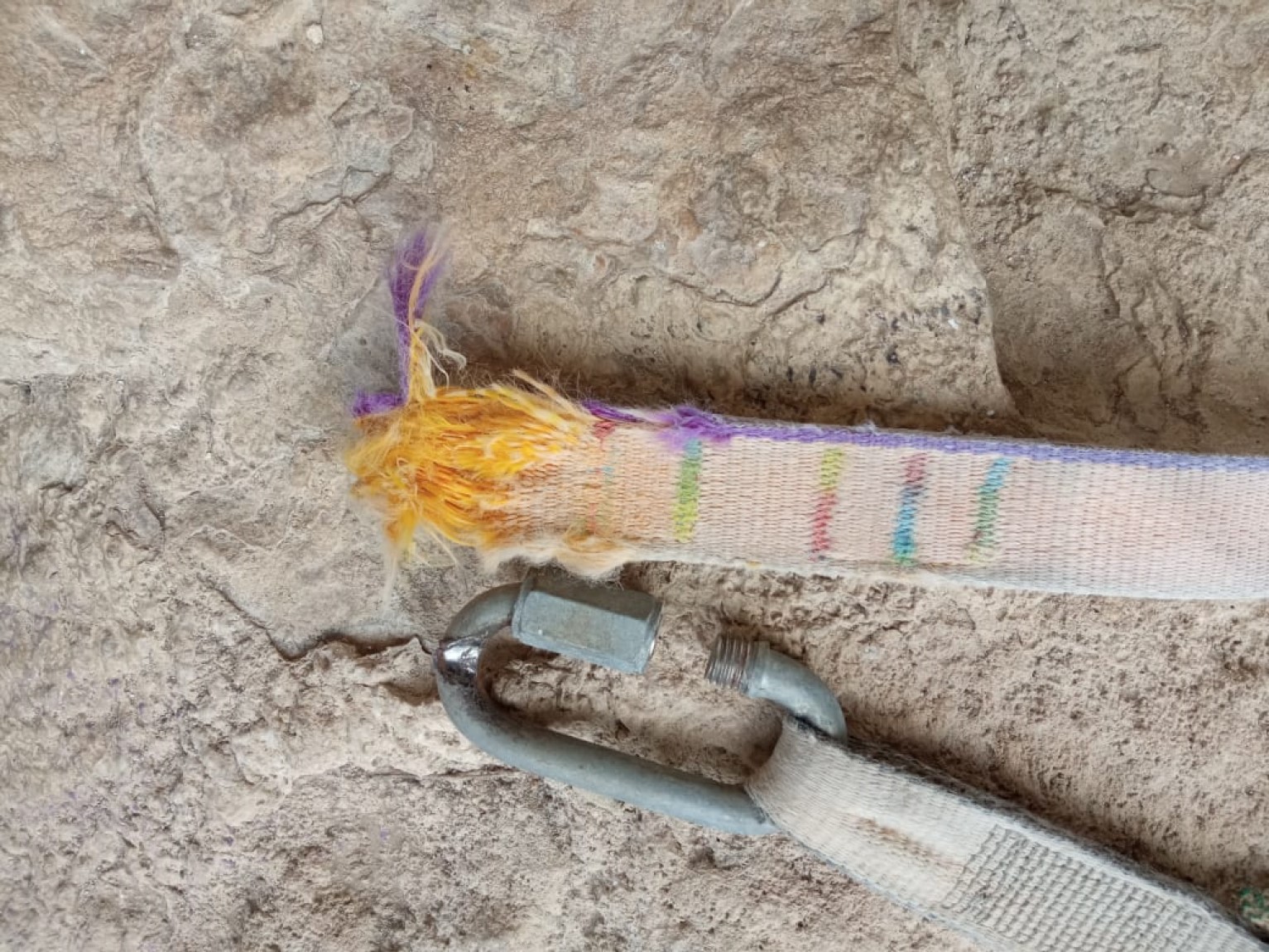 WARNING: bad permadraws, top binners and slings
Warning: We have already mentioned a couple of times that many of the permadraws, top binners and slings in Mišja peč are totally worn out. Projekt OSP has replaced some of them with the steel ones on the cruxes of the most popular routes. But, there are climbers who are leaving their own old/worn out quickdraws everywhere. They are very dangerous as they can break at anytime (ground-fall). Additionally, they can destroy your rope as the carabiners are sharp as a knife. During the summer the material is in the burning sun and in the winter there is water running over them, so they are getting more and more destroyed.
Many kids or gym rats don't care and they keep clipping them, before even checking them. Also, be careful while clipping the binners on the anchors. Sometimes they are very sharp and totally worn out. Some climbers love to be lowered down really fast, so they burn the carabiner. Then, other climbers are making laps on the routes on top rope, directly in the anchor carabiners.
Warning: if the carabiner is more than 10% worn or has a sharp edge it's damaged and should be removed.
Almost nobody is taking care of them, so please rather use your own quickdraws for your own safety. It is common everywhere in the world to equip your own project with your own quickdraws, leave them in and when you send it, just remove them. This is probably the safest way for you and your rope!
Each year we are removing many quickdraws, top binners and slings and putting them straight in the rubish. There are some exceptions, a few of the experienced climbers are changing them as well. But this is rarely the case.
Keep in mind that Mišja peč is not a climbing gym where quickdraws are being checked regulary. Projekt OSP is not responsible for any accident. Climbing is at your own risk! Be careful, please!
Now, on the bright side with some fresh climbing news.
Jaka Šprah has been climbing lately in the sector above the village Osp named Banje, where he ticked the mega classics Matičkov svet (8b) and Osapski pajek (8b+).
In Mišja peč, Petra Zupan crushed the crimpy power endurance testpiece/sandbag, Sonce v očeh (8a+).
The weather forecast for the next days looks great, so stay tuned for more news to come! Venga, a muerte! But, please, check what are you clipping. OK?