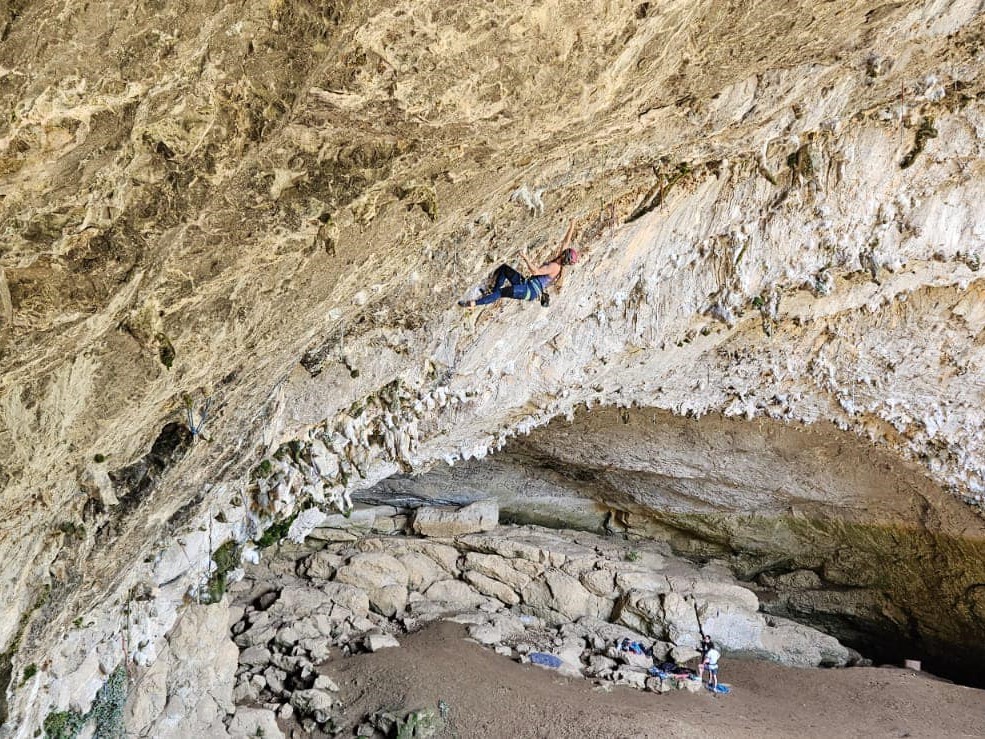 Ana Ogrinc Wagner climbs Helikopter v omaki (8b)
Ana Ogrinc Wagner achieves a remarkable feat by climbing Helikopter v omaki (8b) shortly after giving birth to her twins less than two years ago. This impressive ascent took place in the expansive cave of Osp. It's worth noting that her husband also conquered the same route a few weeks prior. You can find more information about this in the related news.
Additionally, 52-year-old Polish climber Robert Wykret also successfully completed the same route.

Moving to Mišja peč, Tomaž Bevk made a noteworthy ascent of the morphologic and bouldering-oriented No fly zone (8b). He believes that the route should be downgraded to 8a+. Moreover, Kryštof Lebeda from the Czech Republic accomplished a powerful climb of Missing link (8b+), located in the right section of Mišja peč.
In our previous report, we shared news about Goran Matika's first ascent of a new route in Kompanj. The route has now been officially named Wizard (8a).
Looking ahead, the weather forecast for the upcoming days indicates April-like conditions with continuous rain. However, there will be intermittent sunshine and wind. Fortunately, Istria offers various rain-protected climbing areas. If you are interested in discovering such locations, you can find more information here.
We hope to see you at the crag!
By the way, if you're interested, the Slovenian national lead climbing competition is taking place this weekend at the outdoor Plus climbing gym in Koper. It's an exciting event where top climbers of all the categories from Slovenia will showcase their skills in lead climbing. It's definitely worth checking out if you're passionate about climbing and want to witness some high-level competition.