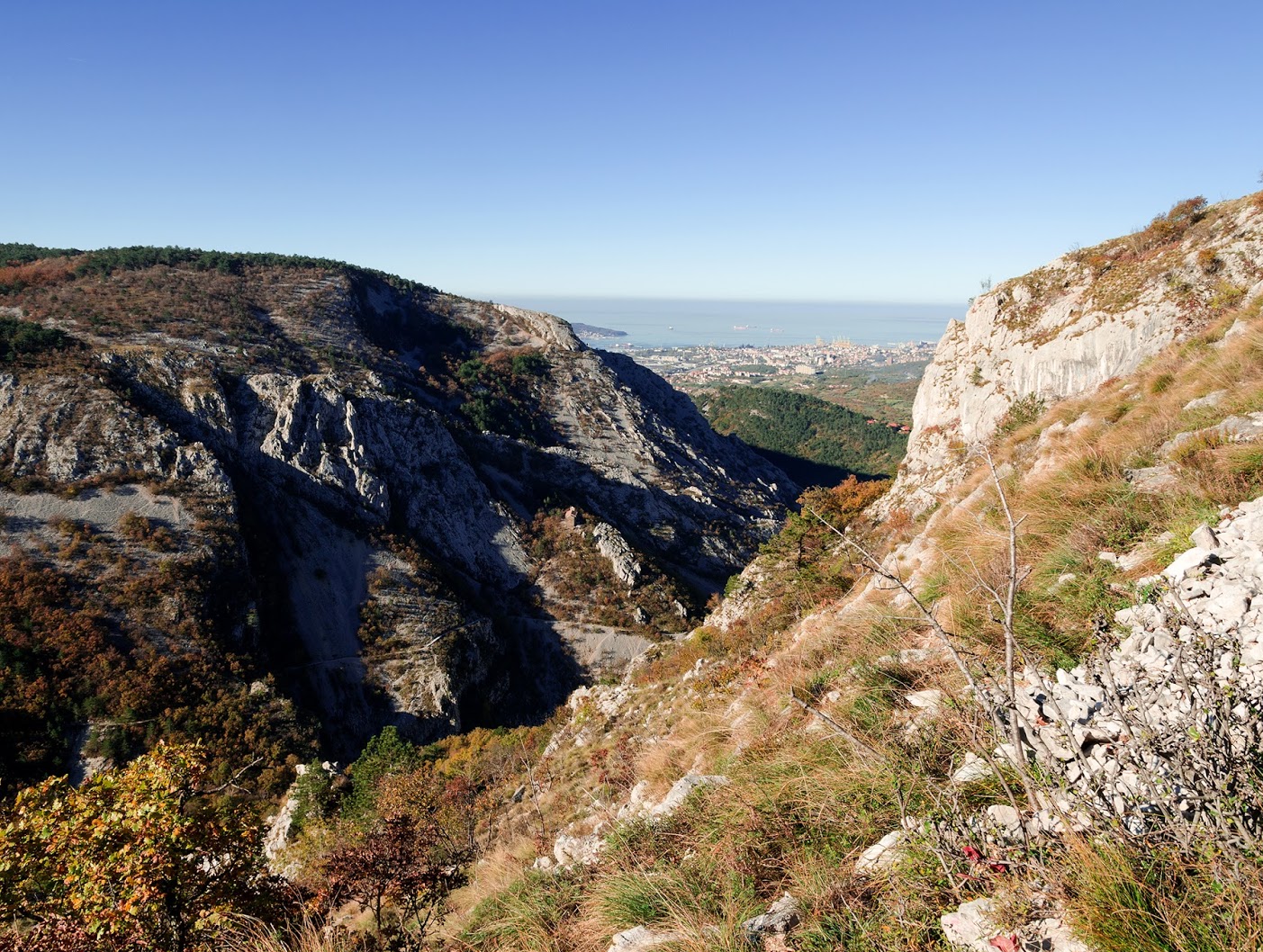 Easter holidays and the 1st of May in Istria
photo @ the view towards the gulf of Trieste from the scenic Val Rosandra
Like always for Easter holidays and the 1st of May in Istria was full of climbers. The most popular climbing areas were overcrowded and many hard routes were climbed everywhere.
Where to start?
Slovenian Miha Pančur redpointed his first 8c, Osapski pajek in sector above the village of Osp. There Rok Blagus did an ascent of connection called Osapska mumija with the grade 8b.
Close by in Mišja peč, Saša Vidmar climbed the easier variation of Pingvin (8a), which was onsighted by 13 years old Czech climber named Jan Vopat. He also onsighted Corto (8a) and the first part of Active discharge (8a) in the big cave of Osp. By the way, he also redpointed Marjetica, the short and powerful 8b in the right part of Mišja peč.
Boštjan Weingerl did another 8b, this time Lucky Luke in Mišja peč. Jakob Šparovec crushed the endurance beauty Pikova dama (8b) while young Klemen Novak climbed the classic Mrtvaški ples (8b) and flashed the second part of Albanski konjak (8a). Experienced Italian Christian D'Anzul clipped the chains of 40 meters long Sanje za dušo (8b+).
In the big and super steep cave of Osp strong Jakob Bizjak executed in Working class hero (8b+) and Anej Kodele did Helihopter v omaki (8b).
Passing the Italian border in scenic valley called Val Rosandra Luca Bacer onsighted his first 8a, Adelante in the sector called Strapiombi delli Vergini. A bit more to the north in Napoleonica, in sector Mano di Fatima, another Italian Davide Negroponte flashed Harakiri kiki (8a+). In the same sector Franci Jensterle fired Sacro e profano (8b) and Il padrone assoluto (8a) while his partner Sabina Sovinc climbed La guerra dei nervi (7c+). They have also visited Medveja where Frenk fastly crushed three different 8a's while their son Matic is already climbing routes till 6b on top rope. Bravo Matic!
Strong Austrian Roland Wagner visited Medveja where he onsighted Ledeno doba (8a) and Buzetski kanjon where he succeeded in another 8a on sight, this time the route with the name Too late in sector Pengari. In summer sector of Buzetski kanjon German Franz Fackler climbed Lap dance (8b) on his last day and last try of the holidays.
Matej Sova was climbing in Kamena vrata where he did two short and nice routes, Bonsai (8b) and Zvući teško (8a+).
Goran Matika aka Gogo discovered the new climbing area of Brseč where he onsighted the classic Schussler (7c+).
Trieste based Gabriele Gorrobey is back in the game. He was climbing in Istarske toplice where he made two first ascents of his projects, No never (7c+) and Digital block (8a/b). He also bolted a new route in the big cave of Osp, a connection between Working class hero (8b+) and Leon (8b).
Another Italian Rebecca Finch visited secret Baratro above Trieste where she onsighted the classic Joshua tree (7c).
For sure we have missed some of the important ascents but with so many climbers over here in the last month it is really hard to follow everybody everywhere.
A strange thing happened in secret crag Skedenj near Sežana, where a crazy local was throwing rocks on the climbers and belayers. Everything was reported to police, nobody got hurt but hopefully it will never happen again.
Črni kal got a new addition for climbing community, two new toilets on the lower parking.
The weather in the last days is so-so, lots of rain, so also the big cave of Osp got totally wet again. Let's hope this April weather will stop soon and perfect conditions will arrive as soon as possible.