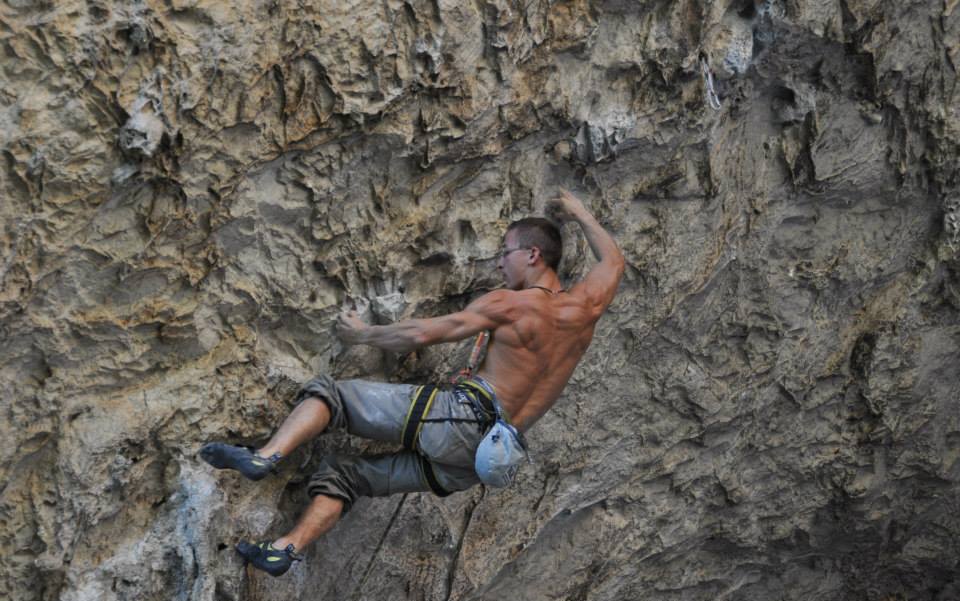 Interview Stefan Bednar – Stygi
Always smiling while being totally focused on climbing and training, this Slovakian climber with glasses and enormous core power turned out to be a really interesting guy to have a chat with.
Stefan Bednar, born in 1990 in Slovakia, current Slovakian Lead and Boulder champion, came on Erasmus student exchange in Koper for the next 4 months. First of all he came to one of his beloved climbing areas – Mišja peč. In the first week in between studies here he redpointed Konec mira 8c/c+ (first try this year), Natural link 8c, Marioneta and Mrtvaški ples (both 8b),…
We did a short interview with him just to know him a bit better:
CI: What do you study and how come you choose Koper for your Erasmus exchange?
S: I study sports management. I choose Koper, because I just wanted to climb in Mišja peč, to do as many hard routes there and also in other areas around Istria.
CI: You said you come from north-east of Slovakia, where there are almost no climbing areas neither training gyms. How come you are so strong? What are your biggest achievements?
S: Yes, in Slovakia we don't have such good climbing areas as in Slovenia. We have one sport climbing area near Zilina – Visnove where there are the hardest routes in Slovakia and where we train a lot.
But mostly I train in gym – nonspecific training – and than later in preparation time I go more to the specific climbing training. I aim to train fingers at most, then the back and the main muscles for climbing and to prevent injuries some compensation exercises. But, I don't think that I'm strong, genetically I'm just average and my fingers are very weak, so I have to train them primarily … but it's a long-time process.
My best achievements in rock are Triada, the 8c+ in Turniska (Slovakia), many 8a on-sights and boulder White widow, FB8a+ in Ciezkowice (Poland), two times Slovakian national lead champion and last year as well Slovakian national boulder champion.
CI: Stefan, you look very buffed, you look like Superman, Batman and Captain America rolled up into one. So thats' why I want to know if nutrition plays a big part in your training regime?
S: I think it's also genetic why I am so lean and therefore my muscles looks like Batman and Superman in one :). But I have a nutrition sponsor from Slovakia, Kompava, from them I receive good proteins, blood pumps, creatins, fat burners, joint nutrition and other stuff. I think it's very important to get some quality nutrition folders from supplements because in daily nutrition you don't have a chance to get everything your body needs… so good proteins are the basic thing and then other stuff is benefit. But you can also eat domestic eggs, quality meat, cheese – it's also a good option. But protein is at least the cheaper and faster option. About this supplements, I believe that it is a longtime process of using them and it is perspectively good to build strong muscles and also neural connections … which can appear later after longtime using, I believe it should work so. And some supplements like creatine or blood pumps can improve performance visibly after short time of usage.
CI: Do you have some goals for the time of the studies here?
S: Yes, first one is to buy a scooter or a motorbike to get easier access to all the crags in Istria. 🙂 Then to redpoint Martin Krpan and Sanjski par (both 9a) and clean all the routes (to do all the routes in the crag) in as many climbing crags as possible. And of course, to have a lot of fun doing it. 🙂
CI: With whom would you rather share a beer after a great day of climbing, the old legends like Moffat, Moon, Güllich… or the young guns Sharma, Ondra, Megos…and why?
S: I think it would be better to have a beer with old legends because I like the old stories and also they improved and developed training methods and exercises, which could be interesting for me because I like to train and also admire older climbers how they reached such a high level without good training possibilities as we have today.
Thanks for your time. See you at the crag & keep crushing hard!