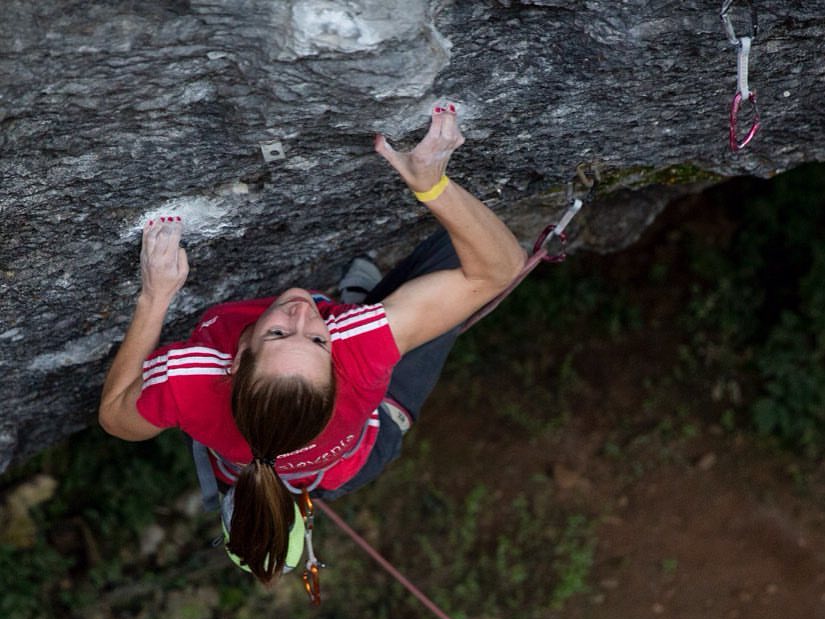 Katja Kadić redpoints Attila 8c/c+ in Baratro
Katja Kadić, member of Slovenian Bouldering Team, redpointed Attila (8c/c+) in Italian secret spot Baratro in just five tries. Attila is about 15 meters long, really steep on mostly artificial crimps and is a pure power endurance testpiece. This is far hardest redpoint for 21 years old Katja. To make a day perfect, she finished it with clipping the chains of other two 8a+'s: Dubbio finale and Dio non xe Furlan! What a day, what a performance! Impressive! Some interesting history about Attila here!
Another Slovenian female climber is also back in the top shape. 49-years old Sabina Sovinc, second lady in Slovenian history to redpoint 8b back in the year 2000, mother of a wonderful son named Matic and a full time sports teacher in the high school spent whole summer climbing with her strong »husband« Franci Jensterle who also ticked Bimba Yena (8c/c+) couple of weeks ago. A couple of days ago Sabina executed and climbed Siddharta (8a+) in Baratro in just eight tries. Respect, Sabina! Keep on rocking hard!
In Baratro on Saturday, 3rd of September a big climbing party was held for the 20 years anniversary of this special summer crag north of Trieste. It was huge!!!
Above Sežana in Slovenia, in another summer crag called Skedenj, strong Boštjan Weingerl cruised through La via di mezzo (8b+), a route with a beautiful and hard crimpy start, small rest and steep and dynamic finish. Great job, man!
Summer is finally going to its end, temps are falling down and more and more hard redpoints are hopefully coming up. It's time to finish the summer projects!