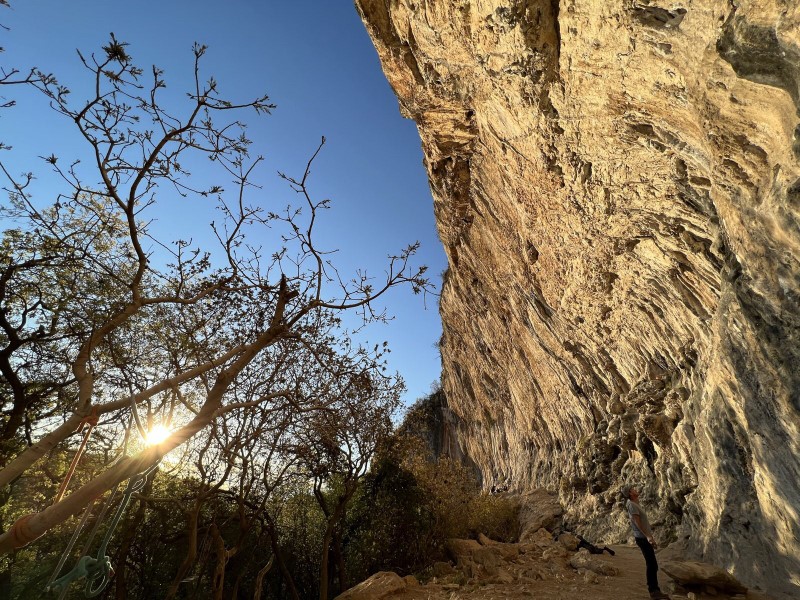 Konec MIRa (8c/c+) in Mišja peč by Jakob Bizjak
The weather in the last days has been great. Sun, some wind, some clouds make conditions for climbing just prime. Eastern is almost here and climbers are having fun all around Istria already.

As usual, the most of the hardest climbing news from Istria come from Mišja peč.

Over there, Jakob Bizjak climbed Konec MIRa (8c/c+) in the right part of Mišja peč called "hladilnik" or freezer as it gets just a little bit of sun in the late afternoon.

Konec MIRa (8c/c+) was first ascended by Jure Golob in March 2001 on the day the Russian space station called MIR was deorbited in the South Pacific Ocean. It was first graded as 8c/c+ and later called as a hard 8c. For Jakob it was a proper 8c+ as it is his antistyle, he said. The route is characterized by couple of powerful moves in the start of Marjetica (8b), then it goes to the left. First you have a hard clip, followed by five really hard moves on undercuts in a big overhang on bad footholds. Another hard clip and a small rest to finish in Missing drink (8b+). A pure power-endurance challenge it is. Here you have the video of Jaka Šprah doing it.

On the other side of Mišja peč, Croatian Igor Čorko aka Deda redpointed the long and steep traverse Lazuret (8b).

From Austria, Isabelle Ruth crushed the crimpy and extremely polished Oktoberfest (8a).

We have to mention as well a new combo route, that starts in Nočna kronika (7c+) and finishes in Urbanova (8a). Miha Kajzelj added two bolts and freed this amazing line now with the name Cona udobja and a proposed grade of 7c.

Also Jurij Ravnik bolted a new project, one of the last free remaining lines in Mišja peč, just right of Stinger (7c). It starts on tufas and follows a vertical wall to join Skodelica kave (7b) on the top of the wall. Let's hope it gets done soon.

Couple of hundred meters to the left, in the big cave of Osp, Italian Enrico Cassol ticked the 55 meters long marathon tufa fest named Helikopter v pošasti (8c).

See you at the crag! Have fun!