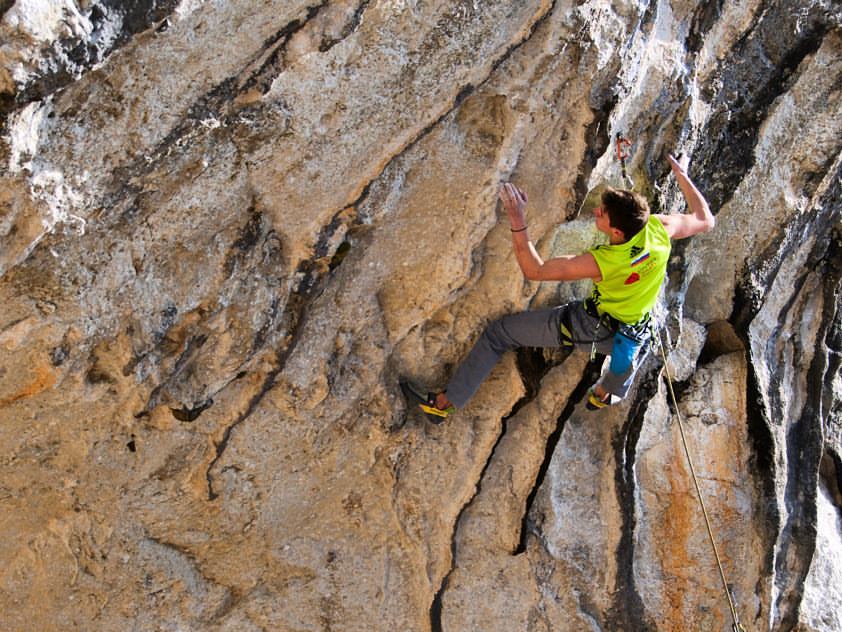 Local climbers crushing everywhere
Klemen Novak in Der Berg ruft (8b) in Kompanj @photo by Anže Štremfelj
All around Istria local climbers were climbing hard in the last days under prime winter conditions to redpoint their projects.
In the mecca of hard routes, Mišja peč, Slovenians showed up strong. Jakob Bizjak climbed the centre's classic Sreča vrtnice (8b), Boštjan Weingerl fired crimpy Vizija (8c) and Gašper Pintar onsighted the beautiful second part of Figa (7b) named Figaro (8a+).
Also in Mišja peč, tall and strong Croatian Gianfranco Dušić easily did Lucky Luke (8b), which is quite morphological and for sure easier if you are taller. The Italian rock star Silvio Reffo showed up and on second go redpointed the technical Pikova dama (8b).
In the big cave of Osp Anej Kodele succeeded in his first 8b+, 55 meters long Active discharge! Congrats!
Crossing the Italian border, in the scenic Val Rosandra, Rok Blagus made one of the rare repeats of sector Strapiombi delle Vergini's hardest route named Anuk with the grade of 8b. Bravo Rok!
In Croatian Istria, in Kompanj, Klemen Novak crushed his first 8b, Der Berg ruft in the small but super good cave on the far right side of the crag, while Gabriele Gorobey "Sbissi" onsighted super steep Pelinkovac (8a) in RockNRoč.
More to come…