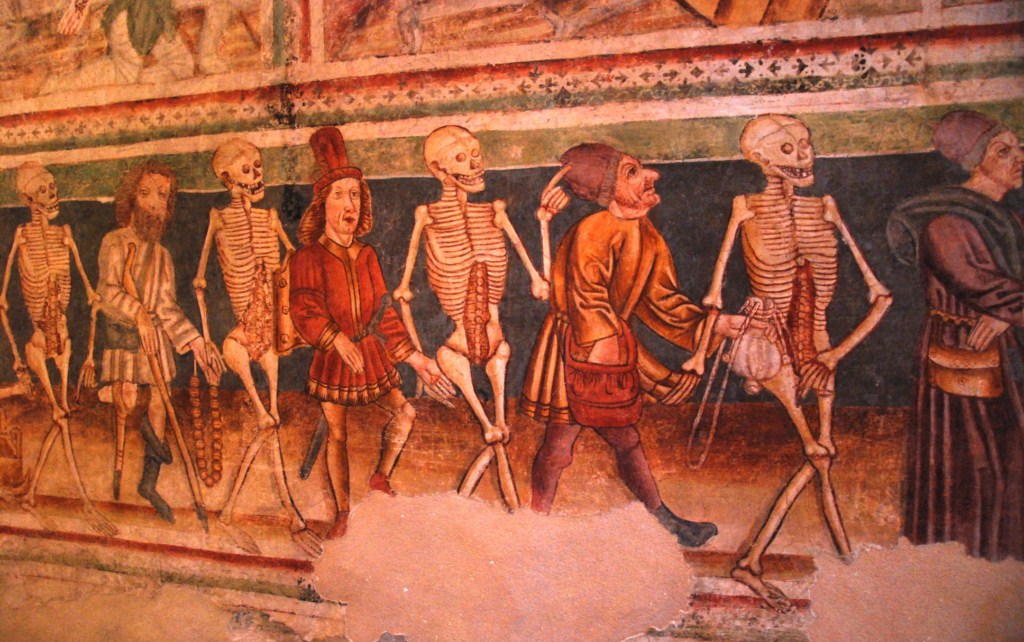 Mrtvaški ples (8b) in Mišja peč – The route of the week
Mrtvaški ples – Dance of the death aka Danse Macabre, famous fresco painted inside Hrastovlje church back in 1490.
This week the weather was great. The most repeated route was Mrtvaški ples, 8b in Mišja peč. It was climbed by Dominik Fon, Rok Blagus, Stephan Vogt and Stefan Bednar.
Stephan Vogt from Germany redpointed Marjetica (8b) in Mišja peč as well. Davide Gaeta, strong climber from the Dolomites, currently studying in Trieste, after 3 falls from the last move, finaly clipped the anchor of Pikova dama, the long and beautiful 8b in Mišja peč. Ivan Pevec from Croatia did bouldery 8b in Mišja peč, Eagles. On the lady's side, Saša Vidmar redpointed Urbanova, the long 8a in the central part of Mišja peč.
In the Croatian Istria Giulio Bertola and Carlo Giuliberti redpointed Andrea Polo's new route – American gipsy (8b) in new sector in Istarske toplice.
We also met Burt from Los Angeles, 1949 born climber on a mission to visit 500 best climbing areas around the globe. This truly driven guy, ex chemistry and physics teacher, visited already more then 300 of them, now climbing in Buzetski kanjon, Vipava, Osp, Napoleonica,… An inspiration to admire!