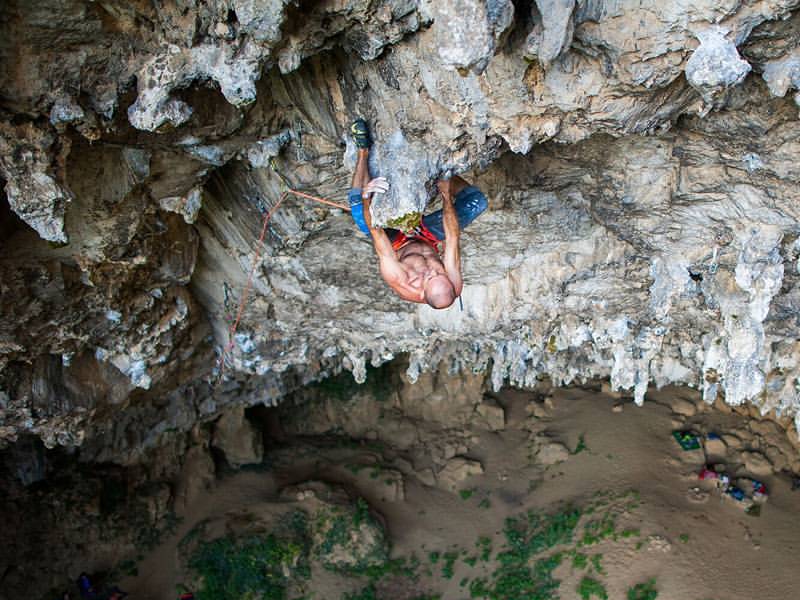 Perfect winter conditions in Istria
Igor Čorko in Osapska pošast (8c) in the big cave of Osp @ Photo by Luka Tambača
The biggest climbing news from the last week comes from 45 years old Croatian from Varaždin, Igor Čorko, who redpointed his first 8c ever – the 55 meters long endurance monster Osapska pošast in the big cave of Osp. Igor is well known in the climbing scene for climbing more than 20 years, redpointing many hard multipitches in Paklenica, the Dolomites and around the globe. Besides that he did many 8b+'s and onsighted routes till 8a. Bravo Igor, keep on rocking hard! Until 50 you should redpoint at least 9a! 😀
Sector Babna in Osp was really popular in the last days. Klemen Bečan freed the last project in Babna, now route with the name Brancin and the grade around 8a. It was an old project bolted by Mitja Peternelj right of Zadnja skušnjava, which starts on small holds and awkward moves till after around 15 meters joins Vegas 7 and ends on top of it. Also lead world champion Mina Markovič visited Babna for her first time and in one day redpointed almost all of the hardest routes there on her second go: Veper lady (8b), Zadnja skušnjava (8a) and RKC (8a). Now she is in Santa Linya crushing hard and redpointing routes with grades of 8c+. Maybe we can expect the first female Slovenian redpointing a 9a soon?
In the new climbing area Rock'n Roč Luka Zazvonil onsighted the short and steep Pelinkovac (8a).
The weather in Istria this autumn/winter is simply amazing. Yesterday it was so warm and sunny it felt like the end of spring.