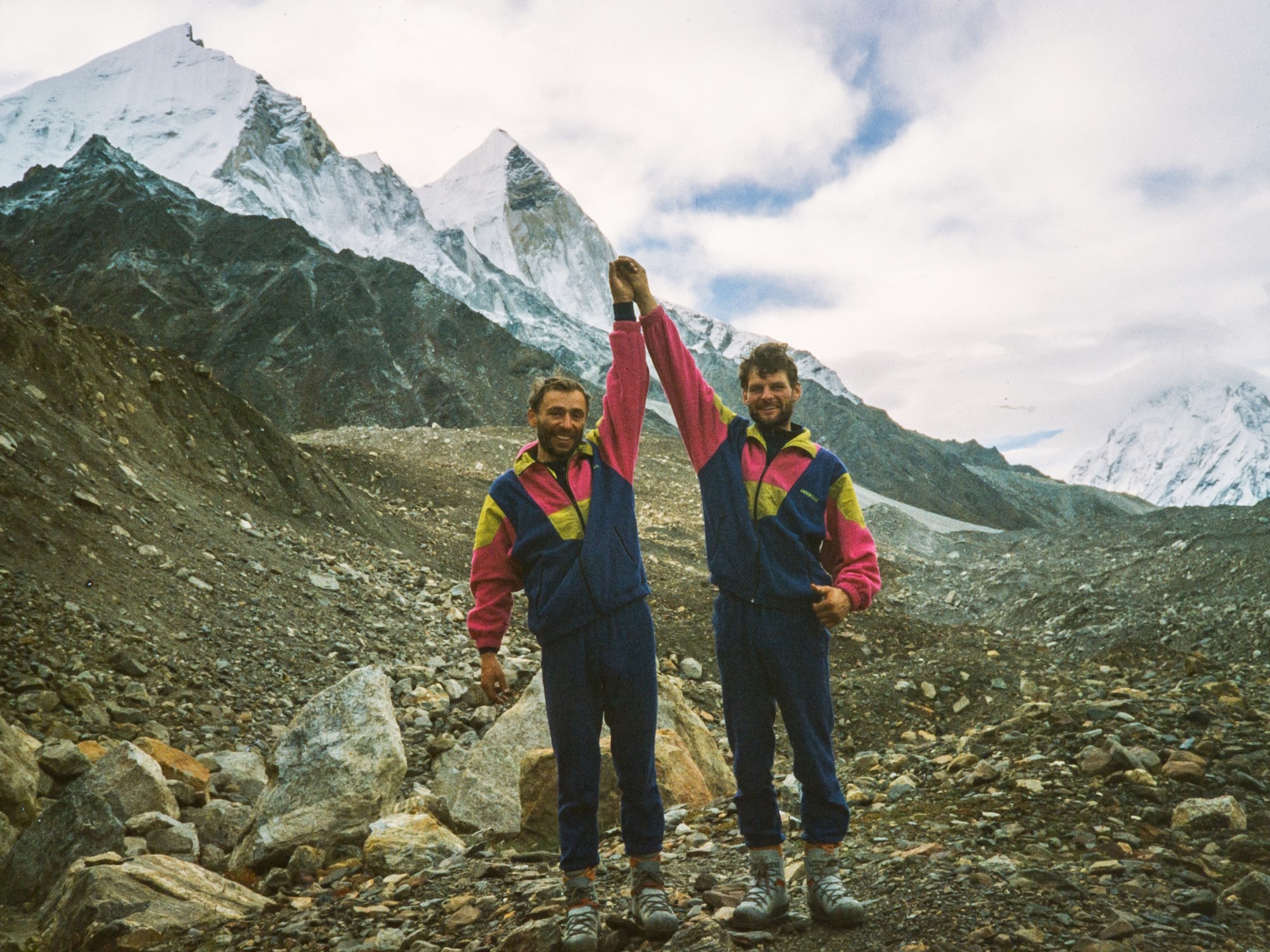 Interview with Silvo Karo
Interview with Silvo Karo: About his book Rock'n'Roll on the Wall, life in Osp, the future of alpinism and much more.
ClimbIstria: Hello Silvo! I've just read the book of yours Rock'n'Roll on the Wall and all I can say is WOW! It's been a while since I've read a book with a climbing theme that affected me so much. It is so fluid and interesting that I read it all in only one day; it's very unusual for me to sit still for so long. Your book is full of facts describing the most important ascents of your long and successful Alpinist career. What I liked the most about it is that there is no bullshit! Where is it possible to buy it online?
Silvo Karo: That means, there is no bullshit as you've read it in a day. Haha! The way I was climbing, that was the way I was writing the book, direct! Alpinism is very simple, the more you complicate things, the sooner you will get stuck somewhere in the middle of the wall. I am really glad you liked the book. You can buy the book online in Slovene here or in English here, also in the climbing shops Iglu sport and Kibuba.
ClimbIstria: You have shortened your story in the book a lot and your book is very successful. Are you thinking about writing another one? Maybe just about Patagonia? I am sure you have lots more to tell. I have lots of funny stories I could tell from my first climbing trip, with you, in Yosemite, when I was 16 years old.
Silvo Karo: Yes, many people asked me if I will write something more. Since I was writing the first one for such a long time, I should have some material already written for the second one. I already have an idea, maybe I will write it, but it will definitely be very different. In Rock'n'Roll on the Wall I have described my whole life as an alpinist. I don't feel, I can add stories to the old chapters which didn't go in the first book.
I remember Yosemite really well. You were still such a kid at that time. But you were already drinking beer, and you didn't have the right ID, so I had to buy it for you!
You also started climbing with me in Domžale, on our first Slovenian modern indoor wall. And your sister Tina, as well, right?
ClimbIstria: Climbing equipment evolved a lot, now you have a weather forecast for Patagonia. Would you like to repeat one of your old routes in Patagonia with modern equipment or does that not interest you any more?
Silvo Karo: No, I have no wish to repeat my routes in Patagonia. For example, I wouldn't approach under the south face of Cerro Torre today, it's just way too dangerous! Each of the routes were climbed in their own time. Today, with a different point of view and modern trends, I would like to choose other goals and in a different style of climbing.
ClimbIstria: If you had to choose the ascent in your climbing career that you are the most proud of, which one would that be and why?
Silvo Karo: There are quite a few in my 40 year climbing career. For each era of my career I could find some. But generally the most complex route/adventure we did is definitely the west face of Bhagirathi 3. An 8-day round trip – base camp to base camp – an ascent that was hardly noticed in Slovenia. Whereas internationally, it is considered legendary. After the ascent, the American magazine Alpinist wrote: "Karo and his partner Janez Jeglič, climbed the face in five days, one of the great big wall accomplishments of all time."
I've always followed modern trends of high-end alpinism and climbing. I am also very proud of my fast ascents in Yosemite, the mecca of rock climbing. In the mid 90's, with Swiss climber Aischan Rupp, we did the fastest European ascent of Salathe wall. For the 1000 meters of El Capitan's vertical wall, we needed 10 hours and 20 minutes.
In the neighbouring wall of Half Dome, we made a record ascent of the Direct NW Face in 11 hours and 20 minutes. After that speed ascent, the famous American magazine Climbing said: "On Friday the 13th of September, Silvo Karo (Slo) and Aishan Rupp (Swi) smoked the Direct Northwest Face of Half Dome in 11 hours 20 minutes, breaking Hans Florine and Peter Coward's recent record of 12 hours 24 minutes. The pair were slowed by rain halfway up and snow high on the wall, which was compensated by quick work of the lower sections." I've no doubt that those two fast ascents had a big impact on my later ascents in Patagonia.
ClimbIstria: Which of your routes do you most want to be repeated? You are interested in other climbers opinions, right?
Silvo Karo: I am happy anytime a route gets repeated. I was particularly happy when Psycho Vertical in Torre Egger, in Patagonia, was repeated.
I also like to hear about repeats of my first ascents in the Julian Alps. In the year of 2002 we did with Marko Lukič – a 15 hour-long climbing marathon in Paklenica, with climbing routes: Rajna (7a), Šubara (6c+), Klin (6c+), Albatros (6c+), Nostalgija (6b) and Velebitaška (6a). Each 350 meters long, that sums up to 2100 meters of climbing and 2100 meters of descending (each time on trail, no abseil). Interesting challenge for a young generation?
ClimbIstria: You have been living in Osp for more then 30 years. You were there developing climbing areas like Črni kal, Osp, Mišja peč. How do you feel here on "burja"? What is the situation like in the village of Osp? You can find some apartments there now, there is no shop, no bar, only a campsite. I can't help feeling that Osp has never used the potential which the climbing offers. Why? What has changed in that period of time and what still drags you to your favourite climbing area Črni kal?
Silvo Karo: I agree that the potential of this natural treasure has never been used to its maximum, but I'm sure there has been some noticeable progress in the last few years. I think the resistance to climbing and climbing tourism in general is tied to the history of the area, especially for older local people, that were never happy if something new was coming to the village. The owners were changing all the time as well as the borders. In my autobiography Rock'n'Roll on the Wall I have written "This wild river has left me under the Karst edge in the vicinity of Adriatic sea, so I have rocks nearby and the windy Patagonia I can nostalgically feel in the winter, when on the Karst blows the cold "burja".
Yes, Črni kal is my number one crag, I still have the same motivation for climbing as 40 years ago. I have also bolted many of the new routes there.
ClimbIstria: Sports climbing has became an Olympic sport, you have climbing gyms everywhere and climbing became a kind of physical workout, every other person is a climber nowadays. Competition climbing has already moved far away from normal rock climbing, with some coordination moves, run & jump starts and so on which are hardly found outdoors. The overall standard of recreational rock climbing has fallen as its popularity has grown. At the beginning of the millennium, most recreational climbers were doing 8a's, now 90% of climbers struggle on routes up to 6b. Is the situation in Alpinism any different?
Silvo Karo: When I started climbing there was only one name for all of the styles of climbing – Alpinism! All the other categories that were developed after were independent. In the eighties, we were dreaming that alpinism would become part of the sport; but Alpinism was never going to become an Olympic sport, that was out of the question.
I think it is easy to predict that competition climbers will stop rock climbing outdoors because their training regimes don't allow time for it.
It is true, at the end of the eighties/beginning of nineties, the standard of recreational rock climbing (where I belonged as an alpinist) was amazing. I went to check my diary and one of my visits to Mišja peč, at the beginning of the nineties, I climbed in a day: Hrenovka (6b+), Krvavica to the top (7a+), first part of Ptičja perspektiva (7b), Runo (7b+), Hugolina (7b+), Mozaik (7c+), Preobrazba (7c+) and Oktoberfest (8a). Frenk (Franci Jensterle) did on the same day more than 15 routes in a day and even way harder. We were hardcore at that time!
How it is with today's alpinism? Heroic alpinism – such as hard ascents on alpine-style new routes, on 8000 meters peaks, is in the past. All the ascents done in that style today, on that level, those would be easily done by Pole B climbing team in the eighties. I have a feeling that "commercial alpinism" paralysed that part of high level alpinism. Also ascents on a mountains a bit lower doesn't equal the ascents in the eighties, despite modern technology helping you with the planning of the ascents. Someone will say, I am too critical. That every year they are rewarding the "golden axe" for the biggest accomplishments in alpinism. Yes, there are achievements, but not a lot that s exceptional. By analogy, if somebody wins the 100 meters sprint at the Olympics in 10:00 seconds, he becomes an Olympic champion, but he doesn't set a new record.
But still, there are some exceptions and inspiring achievements today as well, so there's no need to give up. Maybe soon there will be something done in the Himalayas, like the outstanding free solo ascent of Free Rider on El Capitan by Alex Honnold.
At the time, our generation was trying to be at the top level in all styles of climbing, in some styles we were the ones who were pushing the limits. Where are we today? At least for Patagonia, I can say, that we are not 'top level' anymore.
ClimbIstria: Project OSP started mass-re-bolting Osp and other nearby climbing areas, for which they get the biggest thanks. I agree with their thinking that climbing must be safe. But still, the meaning of 'safe' and 'scary' are often mixed up and here we have a problem I think. I totally agree that easier routes (up to 6a must be bolted really close and prevent a ground fall). Also harder ones, definitely. But, you have a 30-meter long 7b re-bolted with 16 bolts (Pika Poka in the big cave of Osp) and then to the right, still not re-bolted, Try (7b) with 8 bolts, that's totally safe. In Pikapoka, in a higher, easier part of the route you can clip the upper and the lower bolt from the same position all the time, this is not cool. They are paid by the bolt and so sometimes some bolts are being added without any reason. The opinion of the bolters is not respected – first ascent-makers are not even being asked. What do you think?
BTW: Mitja Bizjak comment: If in Italy, you move one bolt without asking the first ascensionist, you get a slap in your face immediately.
Silvo Karo: In the UK, they would hang you on your balls. 🙂 When I've heard about Projekt OSP, I said: "Cool, good idea." But, when they started re-bolting everywhere and changing almost new inox bolts with glue-ins, then I started thinking. What they have done especially in Črni kal, Osp and Mišja peč, seems like throwing money out of the window. I don't know how it is in other Slovenian crags, but I know the situation here really well, as it is my local crag, I am a regular guest and I did lots of routes here. In Mišja peč I did around 20 of them and we also did a couple of cleaning actions with the local climbers.
Firstly, I haven't given any approval to re-bolt my routes, neither was I asked about it. They got approval for re-bolting routes (Uscana Zofka (6c), Almina (7a+) Skriti zaklad (7b+) and Banje (7b), there were still bolts made of corrosion steel. But I have told them to put the bolts in the same places, I even marked them where. Sadly, that was not always respected. With this re-bolting they have taken away the character of the route and messed with its authority. Also, I would expect to get the old, but still good plates back, as they were all mine. I've had zero!
Aesthetically speaking, their unfinished business is not nice to see. You can see the remains of the bolts and where it is not inox, there are brown corrosion spots on the walls. Old bolts should be removed, cut and the holes filled with sika glue.
I am asking myself what is the point of this senseless bolting? You have routes that need to be re-bolted and haven't even been touched. They have re-bolted the easiest ones to work on them and as they were paid by bolt, they were not saving bolts as the first-ascensionists did.
My point of view is that it would make much more sense, and be more economical, if the routes were re-bolted by the authors or by local climbers, as they know the routes the best and would re-bolt only what is necessary . Some popular routes really need re-bolting. And then someone re-bolts my route X, which almost nobody climbs. When I did it, I said that I will pay a pack of beers to everybody who onsights it. It is a very technical 7a slab. I haven't seen a climber on it and they have re-bolted it. Not far away, you have Črni kal populars, like Konec Raja (6a+) and Poletje odhaja (6b) which need re-bolting. At the very least, the anchors should be changed.
It is interesting that in all those years nobody asked me for my point of view, maybe some suggestions or ideas… I would help them with pleasure, and they would even save some money by not adding bolts where they're not needed at all. Maybe the joke is in the amount of money spent? I don't know. If I am not wrong, there were 15,000 Euros spent for re-bolting from the Koper municipality alone.
Not to be blamed are good bolters, who work in their local areas with heart and good intentions, who hopefully don't make these primary school mistakes.
Some people were criticizing Betka Galičič years ago, who was kind of responsible for re-bolting before Projekt OSP. I was also critical about her putting in a bolt too many sometimes. But when you see some Projekt OSP creations, you can easily say that Betka was a master.
ClimbIstria: Silvo, thank you for your time and thoughts and I hope to bump into you on the rocks of Istria soon!