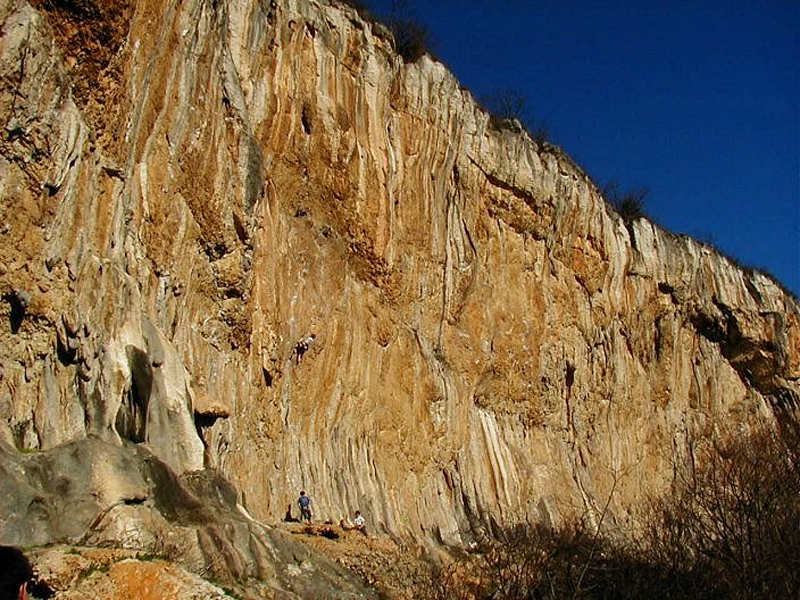 Strelovod 8c by Mina Markovič
Mina Markovič, the climbing legend who doesn't need any special presentation as everyone knows her numerous achievements in the climbing scene. Yesterday she ticked another 8c, this time Strelovod in the right part of Mišja peč. Laying in serious overhang, it shares the first part of the famous 9a traverse called Martin Krpan and then escapes to the right to finish in Marjetica (8b). Maybe Martin Krpan (9a) could be her next goal? 🙂
Because of the holidays and the nice weather, there were many foreign climbers all over the Istria, cruising from Dvigrad, Limski kanal to Buzet and its close areas like Kompanj, Pandora, Buzetski kanjon, Kamena vrata, Sunset rock, RockN'Roč, Nugla, and of course Slovenia's Osp and Mišja peč and on and on. Many easy and some hard routes were climbed practically everywhere.
Two Polish climbers, Patryk Bialokozowicz and Wojtek Pelka redpointed one 8b each in Mišja peč, Patryk crushed Mrtvaški ples and Wojtek did Marjetica. Marjetica (8b) was climbed as well by Italian Davide Picco.
Couple hundred meters further in the same valley, in the sector Babna in Osp, Saša Vidmar redpointed Črna gradnja (8a) and Jakob Bizjak smashed a fast ascent of Veper lady (8b), the hardest route of the sector.
Now some rain is unfortunately pouring, but hopefully sun and good conditions will be back soon.