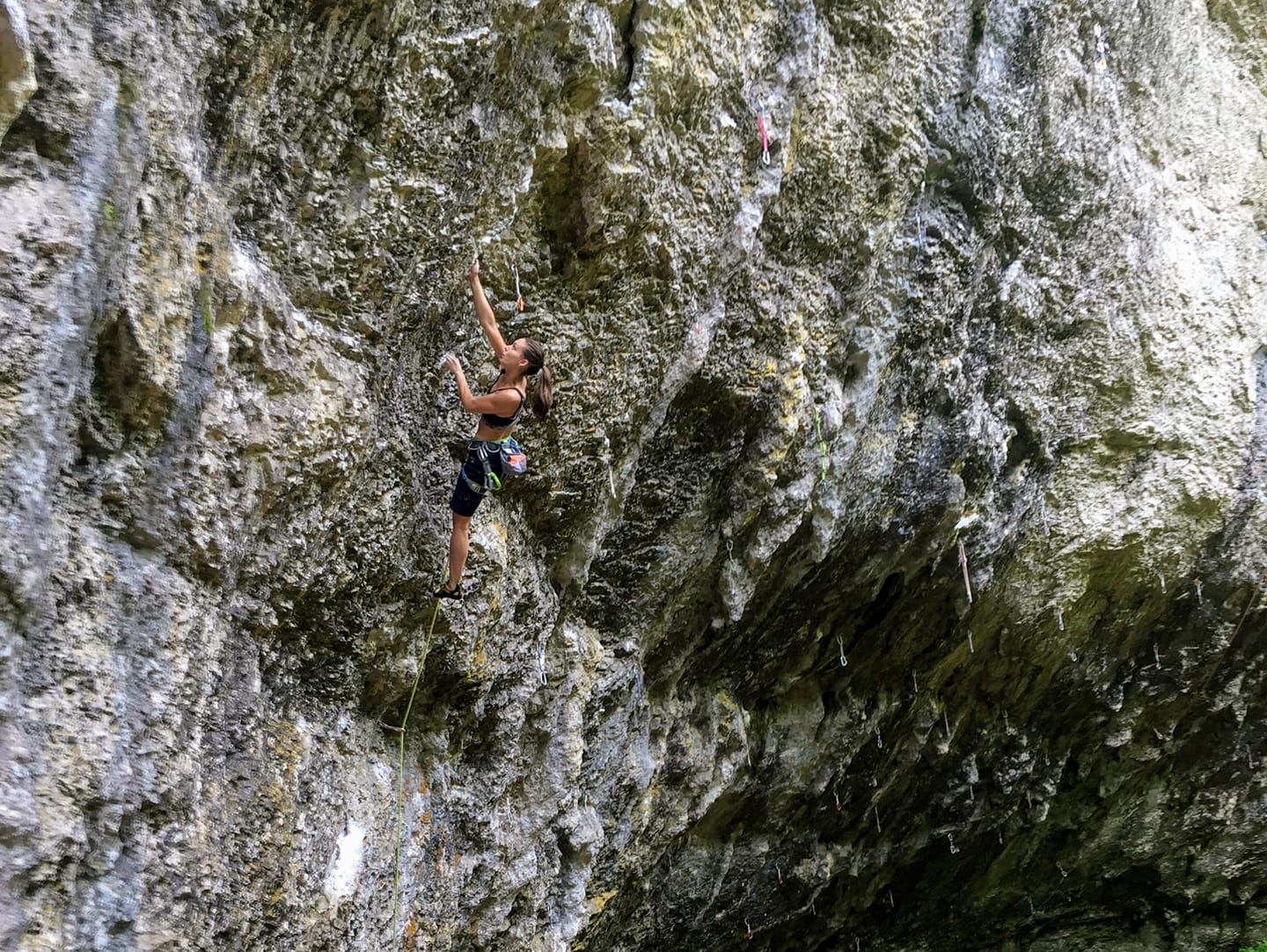 Summer in Istria
Maša Arnšek in Placcoman (8a) in Baratro @ photo from her FB
In the last days, first heat waves of the year arrived. It was hot, humid and perfect for the first swim in the sea of the year. Deep water soloing season started, check where to go here.
What about climbing news from Istria?
Andraž Gregorčič used some last good climbing conditions before summer in Mišja peč with redpointing his first 8b+ ever, one of the best routes in Mišja peč named Kaj ti je deklica or translated What's up girl.
Also Saša Sedlar ended the season in Mišja peč with crushing crimpy and polished Oktoberfest (8a).
In the big wall of Osp, legendary Slovenian alpinist Silvo Karo bolted and cleaned from the top a new route left of Medo. Then he came back with Sara Jaklič and they both first ascended the route, now with the name Janči and a proposed grade of 6b+. The 130 meters long route consists of five pitches (5b, 6a+, 6b+, 5c and 5a). This slabby climb is mainly bolted, there are some pitons in between which are of great quality so for the whole route you don't need nothing more than just 10 quickdraws. Enjoy it!
In Buzetski kanjon, in sector Đoser, Goran Matika aka Gogo bolted and freed two new routes, Happy Todler (7c) and Rain shower (7c+).
In Italian Baratro, Maša Arnšek climbed her first 8a with putting the rope in the anchor of crimpy testpiece called Placcoman.
It looks like there should be some »burja«, NE wind these days, so also all the remaining wet routes in Baratro, Skedenj or Grotta Caterina should dry out soon and make climbing in these hot summer days even more enjoyable. Have fun!