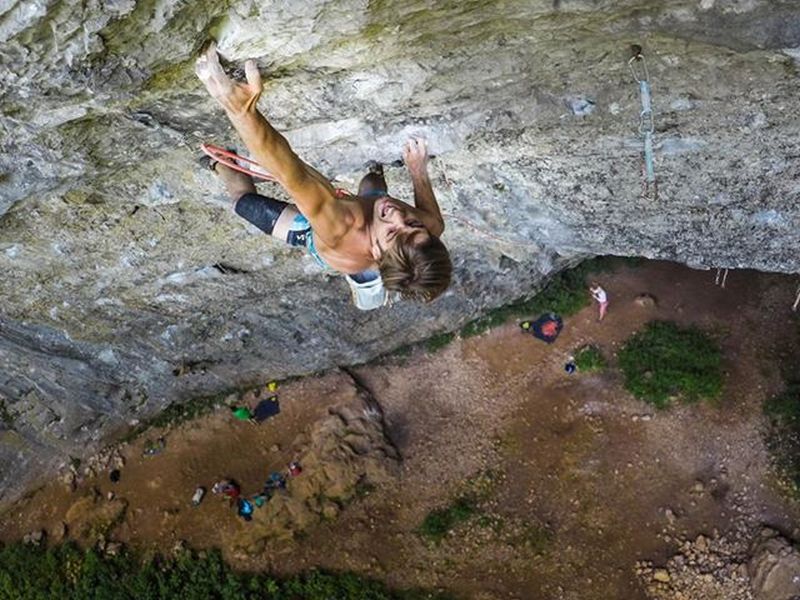 Conditions are back and many hard projects down
Photo @ Martin Wagner in La peste nera (8b+) in Baratro
Martin Wagner from Germany finished his hard endurance fight with La peste nera (8b+) in Baratro, secret crag above Trieste, which he also rebolted back in June. Here is the link to his nice video climbing this route!
Andrea Padoan, Trieste based and Baratro local, clipped the chains of Hercules (8b+) in the central part of the crag.
Also in Baratro Jakob Bizjak fired Holocaust (8b+) and unluckily fell in its extension named Il sultano nero (8c) on its last hard move. Next time dude, no problem! But, he visited Buzetski kanjon where in one-day crushed Lap dance, the classic 8b, on its third go and on the second go Vaška mafija, 8b as well. For the cherry on top he went to Skedenj where he onsighted his first 8b, Sežana 31249. Wow, absolutely amazing considering he did all these routes in just a week. Bravo Jakob, you are in full shape now!
Benjamin Marjanovič managed one of the rare ascents of the first pitch of Klemen Bečan's Bala Bala in the big cave of Osp. Klemen graded it as an 8b, but was later upgraded to 8b+ by the only repeat until now done by Gianfranco Dušič.
Congrats, guys!
It's just the start of the season and we saw already bunch of hard redpoints. We are syked to follow what's coming up in the next months and as always, we'll keep you posted!