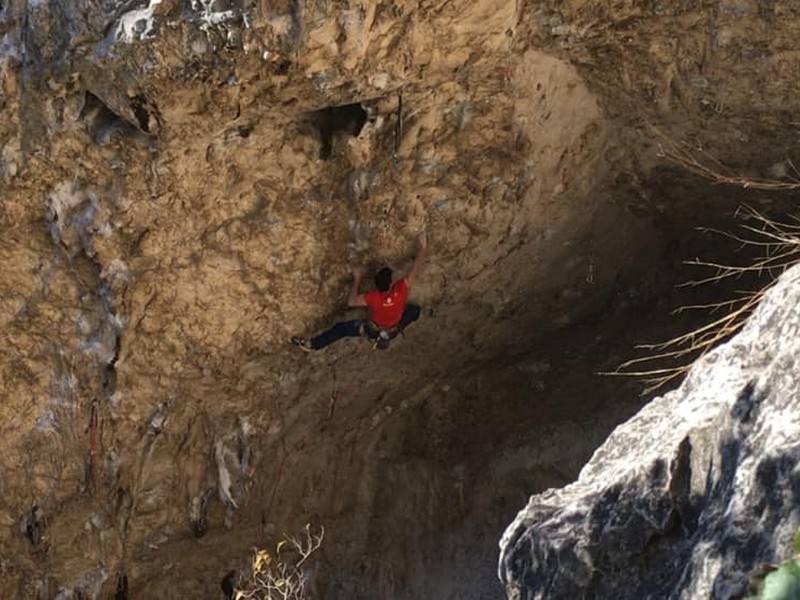 Miha Hribar sends Talk is cheap (8c)
Photo @ Miha Hribar in Talk is cheap (8c) in Mišja peč
The last days in Istria were just bombastic, cold with fresh and dry wind from NE, but still fulfilled with sun and perfect climbing conditions.
Many personal records were broken.
Strong boulderer and owner of Balvanija climbing gym in Ljubljana, Miha Hribar climbed his first 8c ever, the classic powerfest Talk is cheap in the left part of Mišja peč. The route was first ascended by Uroš Perko back in 1997 and was super controversial at that time. It was bolted by famous Tadej Slabe and after many tries done by Uroš Perko. It was first 8c for Perko as well. At that time, in Slovenia existed only Tadej Slabe's masterpieces Sanjski par (8c) and Za staro kolo in majhnega psa (8c+), so there were many doubts about that controversial grade, but that was long time ago and that times in sports climbing were a bit different then now.
In Mišja peč as well, Jakob Bizjak smashed in just 4 tries rarely repeated No fly zone (8b), while Klemen Novak clipped the chains of classic endurance pitch in the central wall Pikova dama (8b).
Further south, in Croatia, in one of the best Istrian crags, Medveja, Christian D'Anzul climbed Colpo di fulmine (8b+), one of the best 8b+'s in Istria for sure.
Today and tomorrow it should rain a bit, but the temps are still very high for winter. Tomorrow, »burja« will start to blow and on Sunday is supposed to be fully sunny again. See you in the crag!