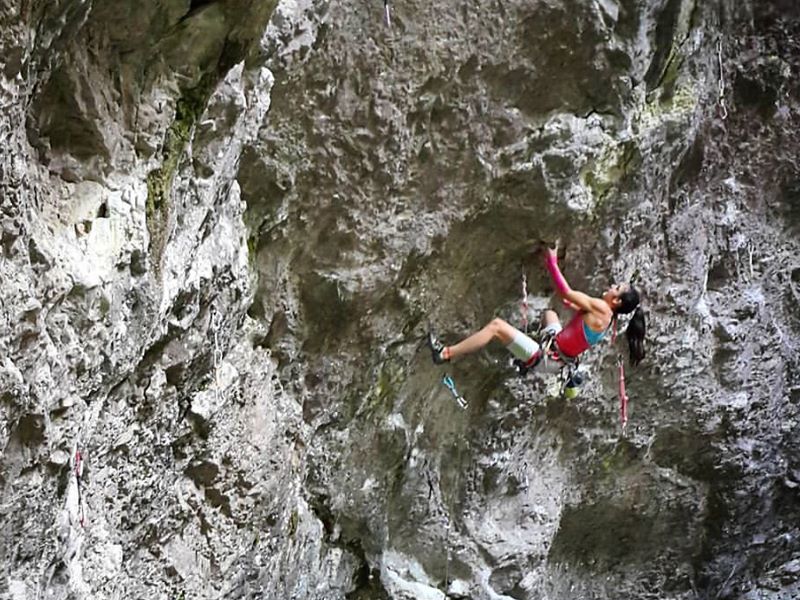 1st 8a+ OS for young Mia Krampl
Mia Krampl trying Sežana 31249 (8b) @photo by her coach Anže Štremfelj
Couple of days ago 16 years old Mia Krampl, last year's European Youth Champion in lead, succeeded in her first 8a+ onsight. She fired the classic crimpy endurance testpiece called Sex and Candy in the secret crag of Skedenj near Sežana.
The route is about 25 meters long and quite overhanging. It has one good rest in the middle, after it is followed by beautiful endurance climbing mainly on small crimps and some poor shakes to finish with big run out on it's top. Bravo Mia, well done! Now you have to crush as well it's neighbouring route Sežana 31249 (8b). Thumbs up!
Also in Skedenj strong and experienced Jure Golob redpointed Vision after it's break of the holds in the first part. Now the route has the grade of 8b+. Seems like no break of the holds can stop amazingly strong Jure 😀
On the other side of the border, above Trieste in the secret crag of Baratro, Croatian Goran Matika AKA Gogo and also the young Slovenian Jaka Šprah climbed La Supercanna also named Il ritorno di Placcoman (8b+). That was the first 8b+ for Jaka Šprah and he did it in just three tries. Stunning!
In the big cave of Osp Anej Kodele made the first ascent of the new extension of Trojanski konj (7c+), now the route with the name Laokoon and the grade of 8a.
More news to come in the next days. Stay tuned!